Dealers:
Indoor/Outdoors:  Valdosta Kettle Works
D-1:  Vocamerica
D-2:  Actress Tiffany Grant
D-3:  Comic Book Artist Steven Butler
D-4: Tony Oliver
Booth D-6: Galaxy Prime Comics
Comics.
Booth D-8 and D-9: The Weabooth.
Anime everything!  No online store, but you can request items by emailing:  theweeabooth@gmail.com
D-10: Crafty Weavers / Starline Pixelations
We sell custom artwork ranging from 4D pieces to canvas pixel combinations.
D-11:  PD Sean Studios
Artwork and merchandise featuring artwork and fan art from PD Sean.
Booth D-12: SRS Vinyl & Graphics, LLC
Mugs, Decals, Keychains, Coasters.
Booth D-13: OppaiLand
R18+ Doujins, Tankoubons, Magazines.
D-14: Circus Corps

Booths D-15 and D-16:  Geeky Experience
Comics!
D-17: Tiger Merch!
Get all your Tiger Con merch at booth D-17!  We have shirts, coins, buttons, mugs, stickers, and a plethora of other geeky stuff!
Booth D-18: Slizzer Wins.
Marvel t-shirts speakers virtual reality headsets headphones small speakers and backgammon games.
D-19:  Anime Dragons
Toys, collectible, plushies, games, cosplay props!
D-20 and D-21: Aardvark Tees
Our own anime, gaming and pop-culture t-shirt designs.
Booth D-22: International Candy Company
Japanese candy, snacks and treats.

Booth D-23: Panda Prints
T-shirts and Apparels.
D-24:  The Crafted Dragon
Chainmalle jewelry, neck ties, dragons and charms. Wooden boxes, dice towers, dice jails and tea lights. Dragon eggs.
D-25:  Powerhouse Graphics
Artists
Table A-1:  Art by Lianna/Lyndarsia
Table A-2: Mecha Monsters
.
Table A-3: Key of Alice Spade Queen.
Lolita, j-fashion, and anime wear.
Table A-4: Lone Wolf Accessories
Resin Ita Bag centerpieces, small hand sewn bags, laminated pixel art Chibi badgesand buttons.
Table A-5: Moonbug Dreams
Resin jewelry, accessories, and dreamcatchers.
Table A-6: August Melinez
Finger puppets key chains bows hooded towels.
Table A-7: TWL Creations
Sketch cards, buttons, keychains, and prints.
Table A-8: Fair Lady Gallery
Art prints, soap, originals, buttons, and commissions.
Table A-9: Available
Table A-10:  Mad Hatter Kyoko
Enamel pins, anime posters, and commissions.
Table A-11: Pure Alchemy Soaps
I create handmade soaps with RPG themed scents. Attendees can 'Create a Character' by choosing soaps that are inspired by Dungeons & Dragons and other fantasy role playing games. They pick a race, a class, and an alignment. Then each set is personalized with the character's name written in calligraphy. I also make molded d20 soaps, liquid soaps/shower gels, and hand sanitizers packaged in apothecary potion bottles inspired by health, mana, and other potions typically available in role playing games.
Table A-12: MeoTsuki
Anime and cartoon buttons, we have over 140+ different button designs. We also sell key-chains, stickers, sweatshirts, shirts and anime prints.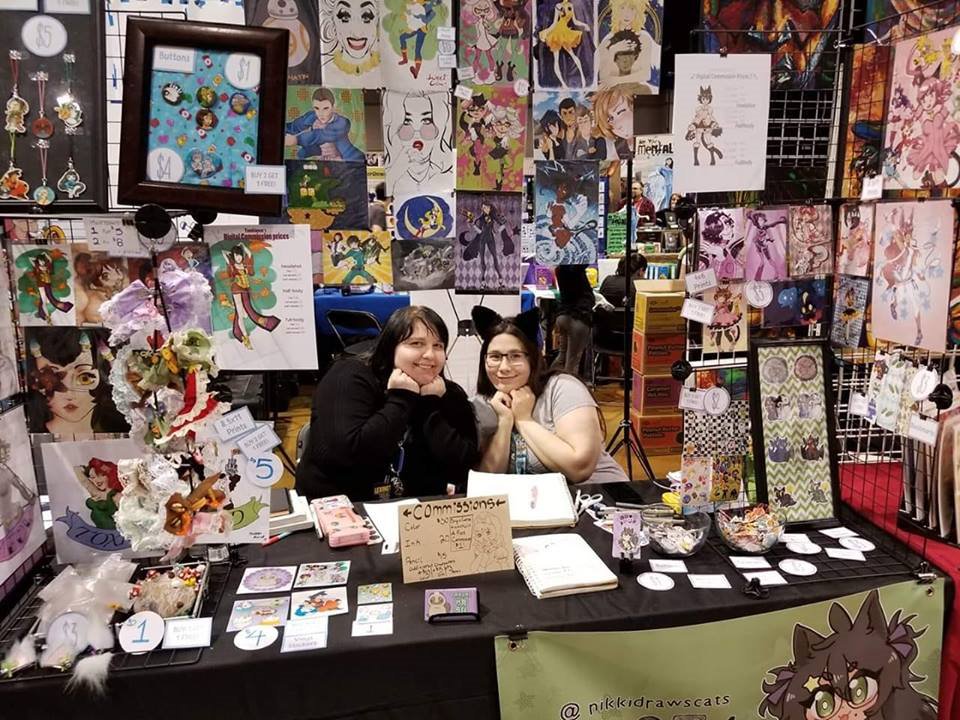 Table A-13:  Tanukimasu
Buttons, phone holders, microfiber cleaning cloths, lanyards, prints, on the spot commissions, acrylic key chains.

Table A-14:  Crows Like Candy
Sewn accessories, jewelry, ears, tails, buttons and more!
Table A-15: Star Galaxy Boy
Fan made merch Mostly geared towards JRPGs. The usually, prints, buttons, charms, etc. also original content, including and art book, pins, and charms.
Table A-16: Scoper Monster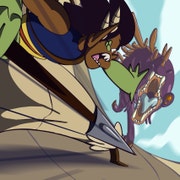 Table A-17: Dedkittystudios
Zines, prints, and stickers.
Table A-18:  Reserved
Table A-19: Fox Foot Crafts
Original art pieces, art prints, stickers, sketch cards, and comic book cover art.
Table A-20: ZZYZZYYART 
Table A-21:  Conpacks Studios Presents Ruby Art
Limited edition metal prints inspired by the worlds of anime, gaming and pop culture.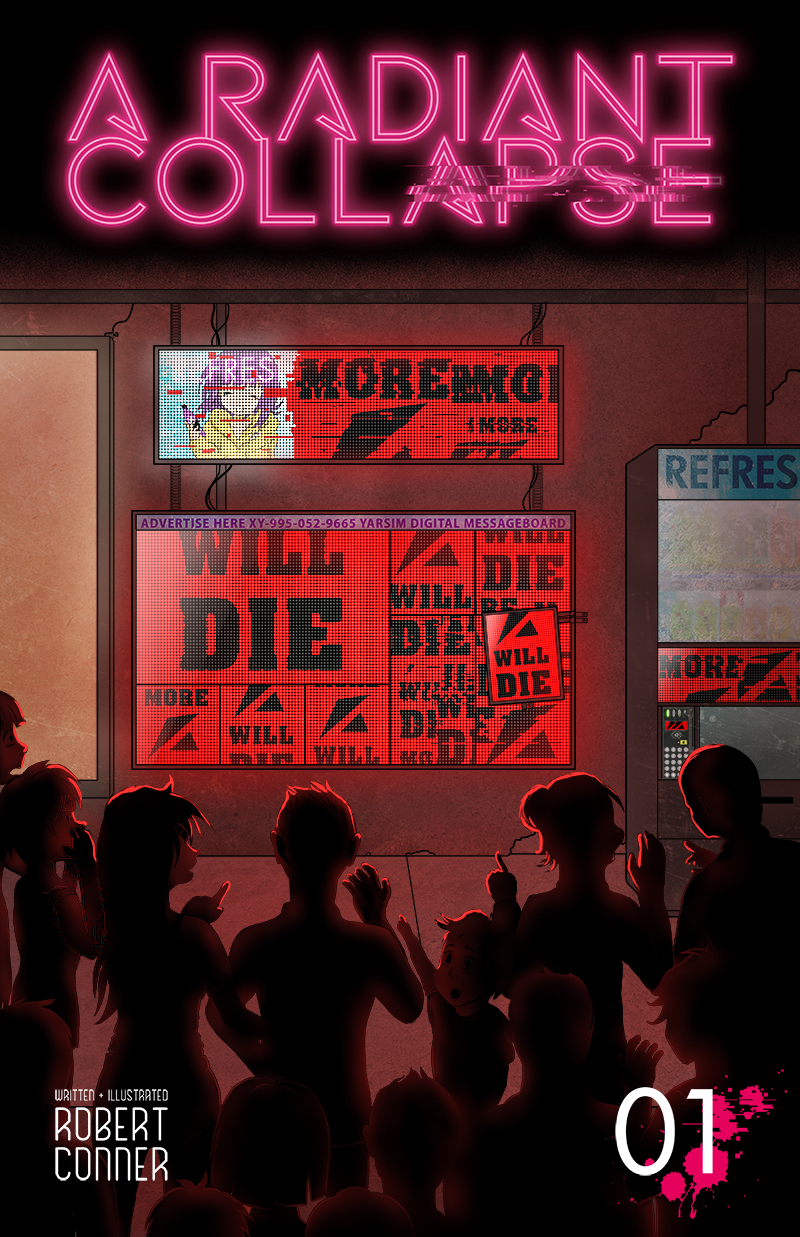 Table A-22:  A Radiant Collapse
My original comic, A Radiant Collapse, as well as handmade sketchbooks featuring original artwork, art prints, stickers and bookmarks.
Table A-23: Megan Kotke Art
Prints and buttons.
Table A-24: Hingey Books